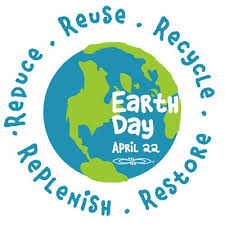 I've updated this list to reflect current dates and offers...
APRIL 22 -
AVEENO ENVIROSAX

Sign up today for a chance to receive one of the limited edition AVEENO® ENVIROSAX® reusable organic cotton bags and a sample of the new AVEENO® NOURISH+ Hair Care Collection shampoo and conditioner. Limited to the first 1,000 entries - HURRY!

APRIL 22 - DISNEY STORE FREE WATER BOTTLE
As part of their Recycling is Magic Project, each customer to bring in 3 empty plastic bottles to recycle will get a gift, a FREE reusable water bottle (valued at $8.50). Limit one per customer while supplies last. And dont forget these previously posted Earth Day goodies as well...

APRIL 22 - MY COKE REWARDS - Dasani Double Points

NEW


In honor of Earth Day, you can earn double points on Dasani all day. Thanks, Shellie!

APRIL 22 -
REYNOLD'S WRAP

This Earth Day, Try Reynolds Wrap® Foil from 100% Recycled Aluminum FREE with mail-in rebate (up to $3.99) Rebate available for download on Earth Day starting at 4:22 am EDT. Quantities are limited and these will go quickly! HURRY!

APRIL 22 - WALGREENS BAG & SAVINGS

NEW


Present this printable coupon at the photo or beauty counter before checkout to receive 15% off your purchase (20% off Walgreen's brand products) and a free reusable bag while supplies last. Discount excludes dairy, liquor, postage stamps, tobacco, prescriptions, gift cards, newspapers, magazines and items prohibited by law. Limit 1 coupon per customer per purchase. Thanks, Money Saving Mom!


APRIL 22 - VG's REUSABLE BAG

NEW


Be one of the first customers per store on Earth Day and receive a free reusable bag. Just ask your cashier. Stores open at 6 am!

APRIL 25 - MEIJER EARTH DAY GIVEAWAYS

NEW


From 11 am - 2 pm on Saturday, pick up your copy of the Meijer Eco Living Booklet (while 300 last per store), visit our Eco Stations for Earth friendly product demonstrations, free Seeds and Giveaways (while supplies last).

ONGOING -
EARTHBOUND FARMS REUSABLE TOTE

Be one of the first 10,000 each week (beginning on Monday) to take your Earth Day pledge and you'll receive a FREE Earthbound Farms Reusable Tote in the mail!

ONGOING -
FREE KROGER REUSABLE TOTE

Now through May 15, design a reusable tote and Kroger will load a $0.99 bag credit to your Kroger card. Pick up a reusable tote at the store and get it FREE at checkout. These bags are also on sale this week (Buy 4, get 1 FREE), so if you need more bags, you can buy 3 and get 2 free with your bag credit (5 bags for $2.97).